Frieze Auctions = £246.4m (So Far)
Preliminary results from Frieze; Swann's African-American Sale = £3.7m
Sotheby's Frieze Evening Sales = £69.78m
There's still a day sale to come on Saturday but the bulk of the sales are over and we've got the top ten lists from Phillips and Christie's below. Next week, we'll have some auction wrap-ups of the sales and the coverage as well as more detailed reports on the lot-by-lot data for AMMpro subscribers.
---
Christie's Frieze Sales = £145m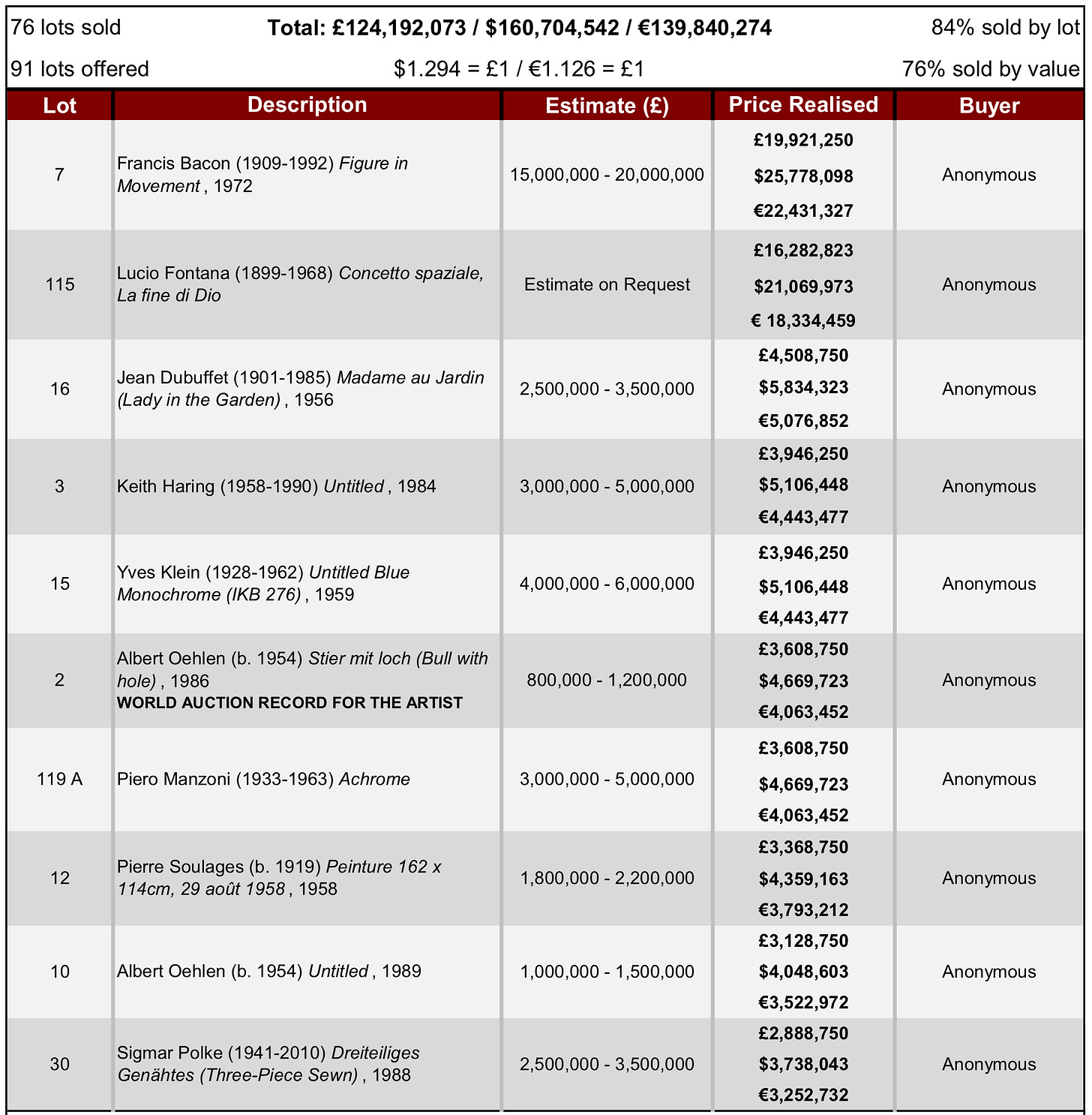 Christie's day sale totaled £20.17m
---
Phillips Frieze sales totaled £31.7m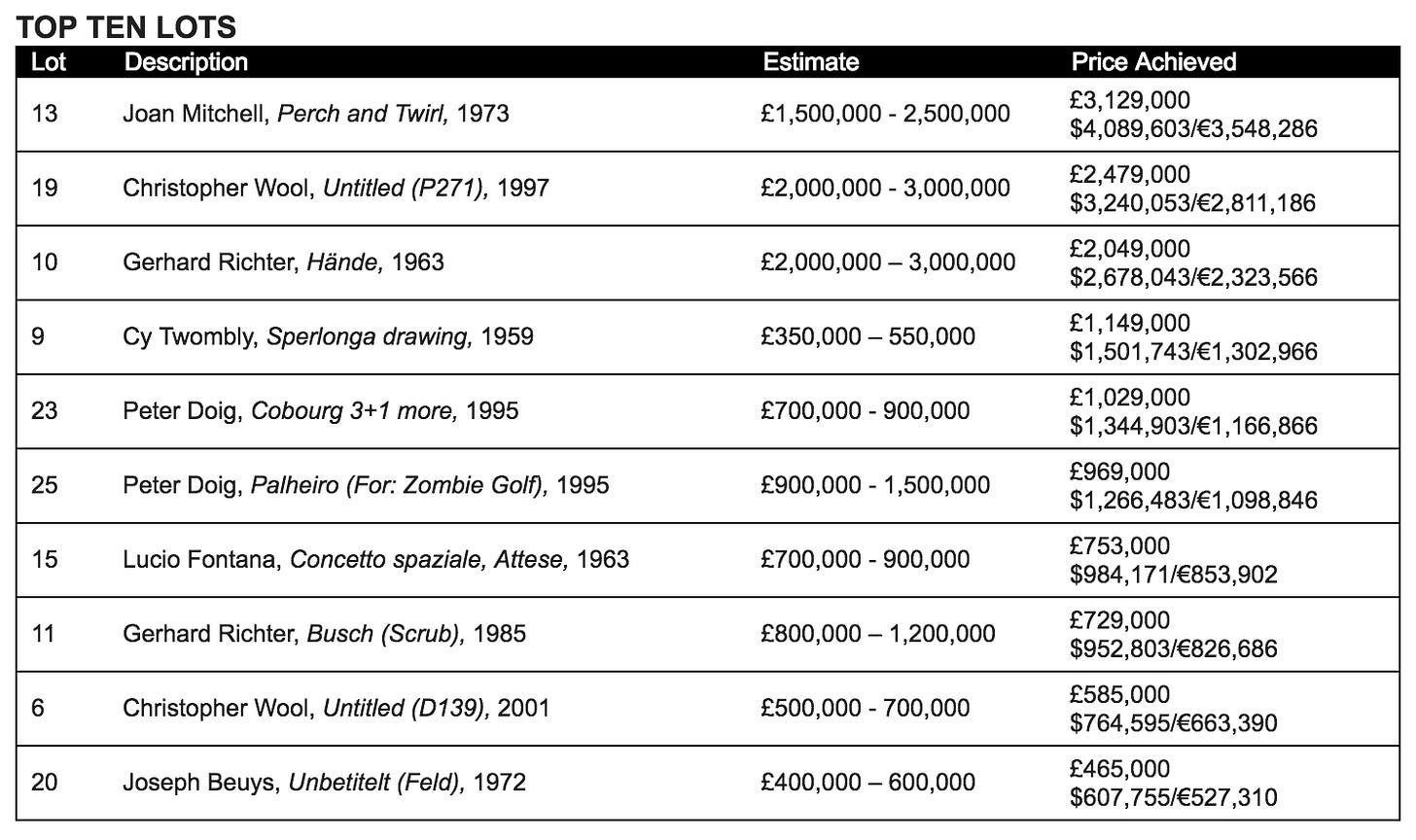 That's a 10% rise over last year's sales cycle where the total was £28.7m.
---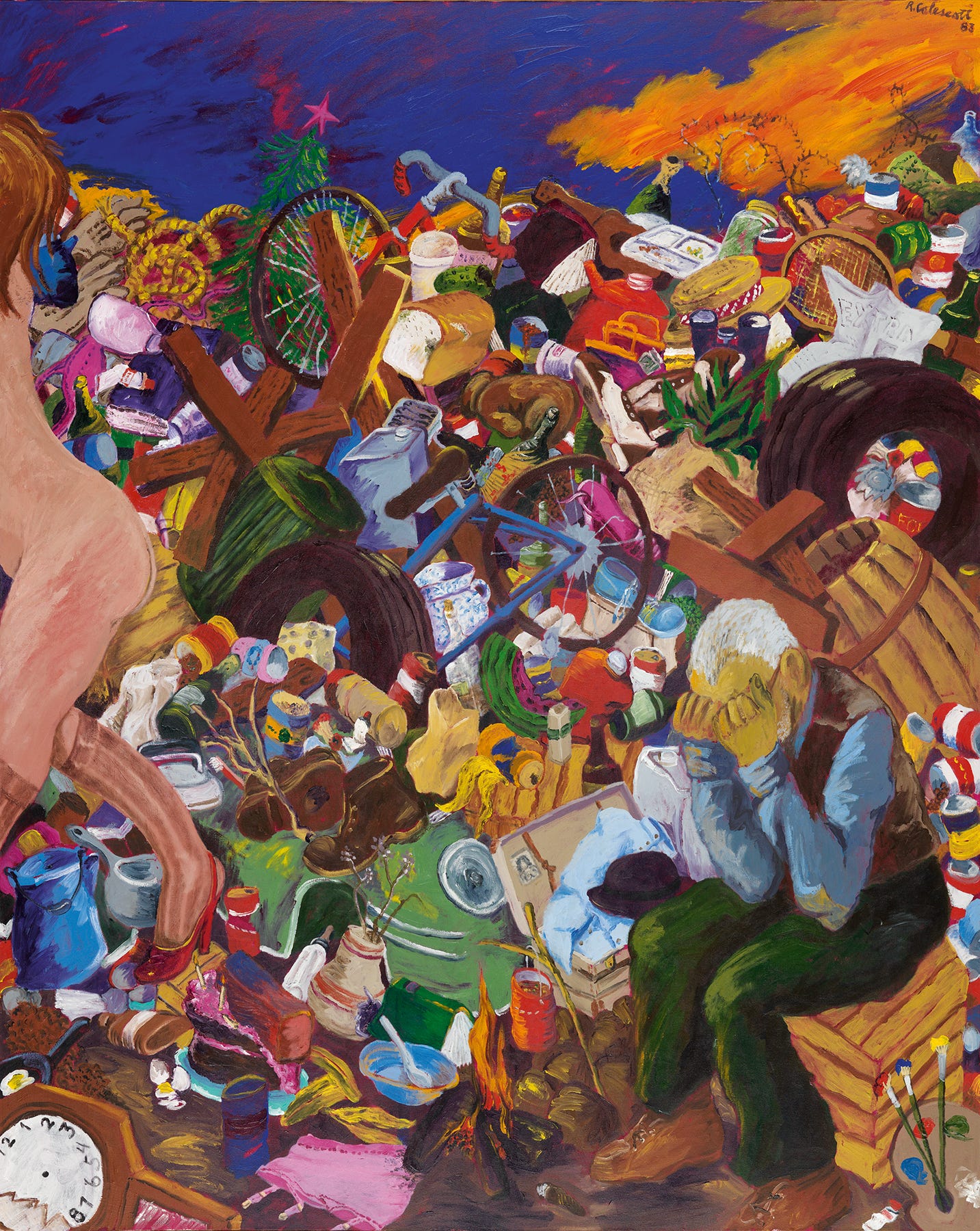 Robert Colescott, Down in the Dumps: So Long Sweetheart, 1983 $329,000
Swann African-American = $3.767m
With 89% of the lots sold—and 45% of the sold lots receiving prices above the high estimates—Swann's African-American art sale caps many years of strong growth in this category.
Swann has a been a trailblazer here. Over the last three years, Swann has built the category's sales from $3.17M to $4.28M to $6.72M. That's a gain of 35% from 2016 to 2017; and a further rise of 57% from 2017 to 2018.
In yesterday's sale, the striking figures were not the few top lots that made six figures (listed below.) Although works like Robert Colescott's Down in the Dumps were estimated at between $35,000 and $50,000, the final price was $329,000. Even the more expected work by Charles White, Nobody Knows My Name #1 was only estimated at between $100,000 and $150,000 before it sold for $485,000. But the strength of this sale came in the lower-value lots that sold for prices $8-10,000 above the previous year's sale. Value is flooding into this category in the least flashy way.
Charles White, Nobody Knows My Name #1, 1965 $485,000

Robert Colescott, Down in the Dumps: So Long Sweetheart, 1983 $329,000

Eldzier Cortor, Sea of Time, 1945 $245,000

Stanley Whitney, Radical Openness, 1991 $185,000

Beauford Delaney, Untitled (African Figure), 1968 $173,000

Hughie Lee-Smith, Man with Balloons, 1960 $149,000

Sam Gilliam, Blood Legacy, 1983 $100,000

Noah Purifoy, Untitled (66 Signs of Neon), circa 1966 $81,250

Hughie Lee-Smith, End of Act One, 1987 $81,250

William H. Johnson, On a John Brown Flight, circa 1964 $75,000
---
This Newsletter Won't Be Free For Long. Subscribe.
You're receiving this because you subscribe to Art Market Monitor's free newsletter. This daily compilation of news and analysis will become a paid subscription newsletter in a few weeks time.
While we're offering the email for free, you can sign up at special rate of $100 per year. That's a 45% discount from the monthly price of $180-per-year. And if you keep your subscription current, that price will never go up.
AMMpro subscribers will receive AMMdaily along with their AMMpro subscription at no additional cost. If you are a gallery, art advisory, institution or other firm and want to provide your team members with a group or bulk subscription to AMM Daily, you may use one credit cart to pay for multiple email addresses here at a 50% discount for the subscriptions.