Gentleschi & van Dyck Outperform in Vienna
How Garish Was Classical Art?; Warhol Dominates Sotheby's $11.9m Prints Sale; John Thain's Picasso
Artemisia Gentileschi Scores with €1.88m Lucretia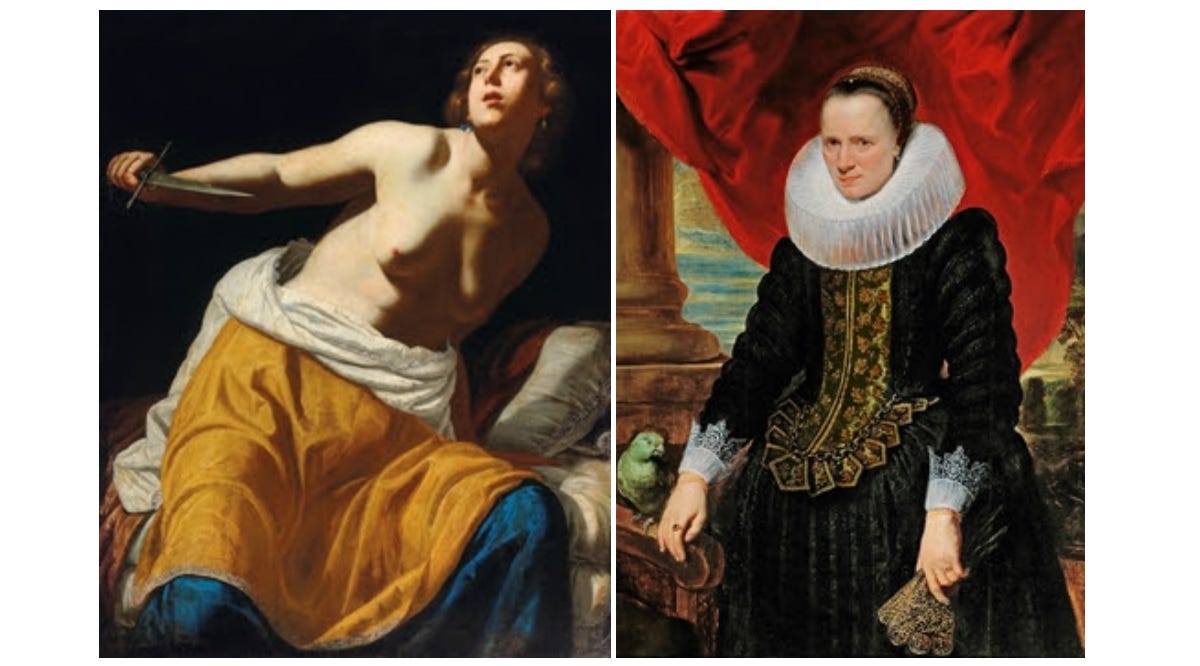 The painting of Lucretia by Artemisia Gentileschi offered at Dorotheum today with a €500-700k estimate was sold for €1.885m (above, left). The winning bidder was in the room but the work is headed to a collection in Australia. This follows the acquisition of a self portrait by London's National Gallery for £3.6m. That work had sold at Drouot for €2.3m almost a year ago.
Also doing well at Dorotheum was a newly discovered Anthony van Dyck, Portrait of a Noble Woman with a Parrot that made €1.425m (above, right).
---
How Garish Was Classical Art?
Margaret Talbot explores the issue of polychromy in ancient statuary—the now well-accepted idea that classical Greek and Roman works were painted—in The New Yorker. The essay veers into the contemporary politics of racialism and whiteness. Before then, Talbot talks about some of the mis-conceptions countering the original mis-conception of monochrome art. She cites an exhibition from 2003 called "Gods in Color" meant to redress our bias:
Throughout the exhibition, the colored replicas are juxtaposed with white plaster casts of marble pieces—fakes that look like what we think of as the real thing. For many people, the colors are jarring because their tones seem too gaudy or opaque. In 2008, Fabio Barry, an art historian who is now at Stanford, complained that a boldly colored re-creation of a statue of the Emperor Augustus at the Vatican Museum looked "like a cross-dresser trying to hail a taxi." Barry told me, in an e-mail, that he still found the colors unduly lurid: "The various scholars reconstructing the polychromy of statuary always seemed to resort to the most saturated hue of the color they had detected, and I suspected that they even took a sort of iconoclastic pride in this—that the traditional idea of all-whiteness was so cherished that they were going to really make their point that it was colorful."
---
Sotheby's New York Prints and Multiples = $11.9m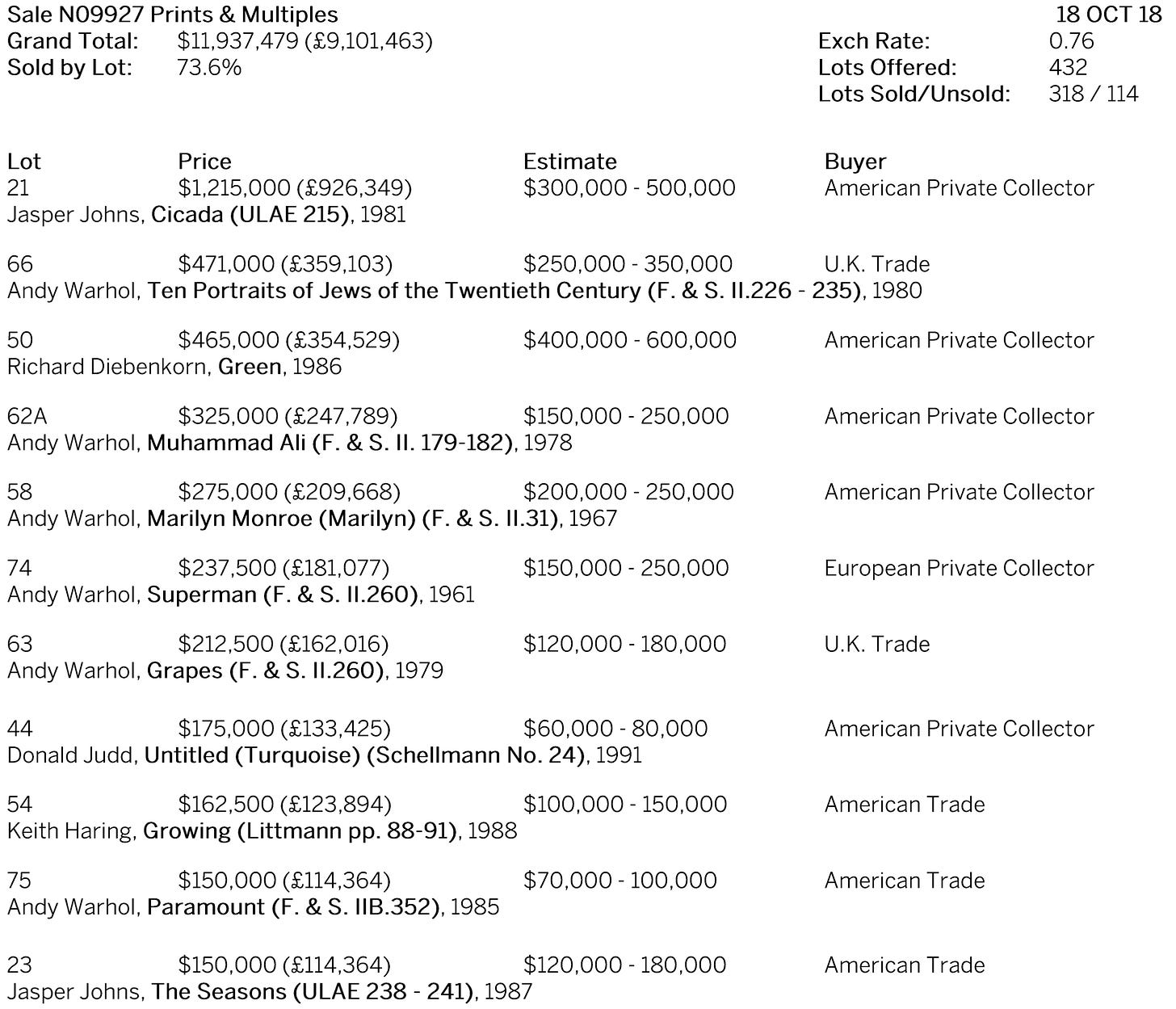 Andy Warhol might have disappeared from the Contemporary art market but he remains the driving force in the Contemporary prints and multiples market. Sotheby's sales over the weekend were dominated by Warhol with six of the top ten works. Jasper Johns took the top spot when a rare complete set of his Cicada print sold fro $1.2m and another work, The Seasons sold for a solid $150k. But Warhol accounted for nearly $2m in print sales during Sotheby's cycle.
---
John Thain Is Selling Picasso's Le Lampe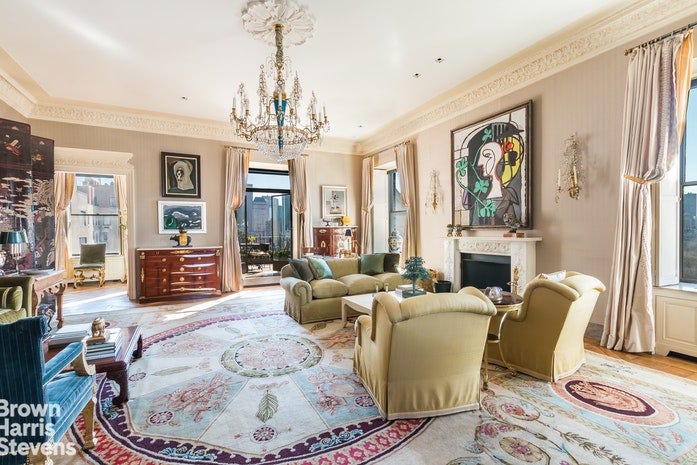 Featured in the real estate listing for John Thain's 740 Park Ave pied-a-terre where you can see the work prominently placed above the living room mantle, Picasso's Le Lampe has a bumpy history at auction. Picasso's heirs offered it at Sotheby's a decade ago where the bidders failed to meet the reserve price. Thain picked up the painting for just a little less than $20m in a private sale shortly after the auction. This was about the same time the financial markets were heading into a crisis where Thain would feature prominently. Now Thain is selling his apartment for $39.5m. Christie's originally thought they could get close to that price privately for the painting setting up a battle between art and real estate for which would perform better. But now the work is at auction with a third party guarantee.
---
Eight Days Left to Subscribe at $100
You're receiving this because you subscribe to Art Market Monitor's free newsletter. This daily compilation of news and analysis will become a paid subscription newsletter in November.
While we're offering the email for free, you can sign up at special rate of $100 per year. (The fee will become $125 on November 1st.) One hundred dollars is a 45% discount from the monthly price of $180-per-year. And if you keep your subscription current, that price will never go up.
AMMpro subscribers will receive AMMdaily along with their AMMpro subscription at no additional cost. If you are a gallery, art advisory, institution or other firm and want to provide your team of 5 or more members with a group subscription to AMMdaily, you may use one credit cart to pay for 5 or more email addresses here at a 50% discount for the subscriptions.