Is the Market for Young Artists Back?
Sales of artists born after 1945 are approaching 2014 levels; Kenny Spots Jenny's Buyer; Seferian LA MoCA's New Chairwoman; Zeng Fanzhi Takes on Cezanne; Sarah Sze Gets Storm King Commission
Artprice Post-1945 Artists Regain Ground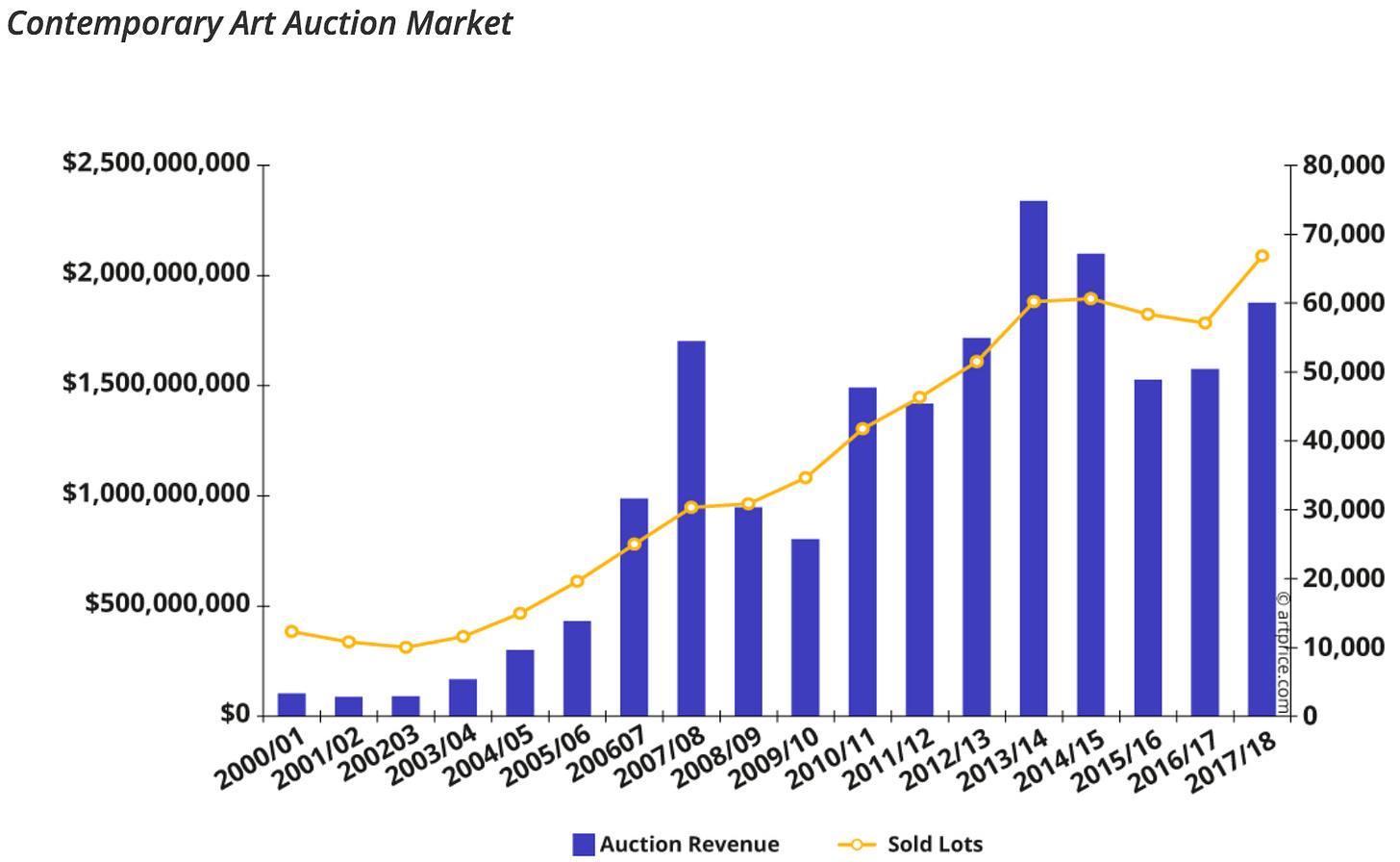 Artprice's annual Contemporary art report is out. Artprice defines Contemporary artists as artists born after 1945. So the category doesn't include some major figures often sold in the Contemporary art category like Gerhard Richter, David Hockney or, even, Andy Warhol. It does include artists like Jean-Michel Basquiat.
The chart, above, shows the category peaking in 2014 during the same period many were fixated on young artists sometimes called the "Zombie Formalists." The peak before that was in 2007 leading up to the financial crisis. Artprice keeps their records on a semester system. So these numbers show a year beginning in July and ending the next June which coincides with the auction calendar at the major houses in Europe and the US.
The 2017/18 chart shows the number of lots by artists who are 73 or younger rising to an all-time high. The value of those lots lags behind either 2013/14 and 2014/15. That's significant. It should be a good sign that the market for living artists is broadening at auction. Which is a trend we've seen in other data too.
Another interesting data point is how the three major auction houses in Contemporary art stack up under Artprice's rubric. Sotheby's is the leader with $533m in sales and the highest average price across 2,443 lots. Christie's trails by 10% in the category with more lots and a meaningfully lower average price. Phillips which has specialized in emerging artist's markets until recently also punches well above its weight in this particular category with $290m in sales and an average price close by Christie's.

---
Seferian Elevated to LA MoCA Chairwoman
The Los Angeles Times announced today that former president and leader of the search committee that hired Klaus Biesenbach to be the new Director of LA MoCA, Maria Seferian, is now the Chairwoman of the museum:
"The board of trustees at the Museum of Contemporary Art announced on Tuesday that it's shaking up its top leadership. At an Oct. 4 meeting, the board elected its president, Maria Seferian, as new chairwoman, replacing co-chairs Maurice Marciano and Lilly Tartikoff Karatz. It also named board member Carolyn Powers new board president."
---
Bidding from the Back Row
Curiosity got the better of Kenny Schachter during the sale of Jenny Saville's record-setting Propped at Sotheby's. Seated in the back of Sotheby's small sale room, Schachter overheard the bidder communicating with Helena Newman via mobile phone. Schachter says art dealers wouldn't help him identify the bidder but he eventually was able to piece it together:
Secretive Russian investor Alex Greenberg (half-brother of German Kahn, co-founder of Alpha Bank and one of Russia's richest) was the anonymous purchaser of Sotheby's Jenny Saville painting for $12.4 million, nearly $3.5 million above her previous auction record. […] It was an expensive testosterone-fueled checkers match (chess would be too generous) of one-upmanship. […] You could sense the infectious tenseness, the spigot opening on the dopamine flow—until the bill arrives and buyer's remorse sets in. "I'll stop, I'll stop," Greenberg assured his hapless consultant. Yeah, right.
---
Storm King Commissions Sarah Sze Work, First Commission in Decade Since Maya Lin's Wavefield
Storm King, the sculpture park in upstate New York with a large and diverse collection of works by Alexander Calder, Mark di Suvero, David Smith and Isamu Noguchi among a wide range of other artists. The foundation has commissioned works from artists such as Richard Serra, Andy Goldsworthy and Maya Lin whose Storm King Wavefield was completed in 2008. Today, the foundation announced a new commission from artist Sarah Sze:
The new work by Sze will consist of a delicate and entropic 36-foot-diameter spherical cavity pressed into the earth and sheathed in mirrored stainless steel, and will occupy a location just below Storm King's iconic Museum Building that has been chosen by Sze in consultation with Storm King's curators. The large scale and shimmering surface of the sculpture will allow it to be seen both up close and from far away across Storm King's rolling fields.
---
Zeng Fanzhi Takes on Cezanne
Enid Tsui looks at the last of three simultaneous Zeng Fanzhi exhibitions to open at Hauser + Wirth galleries around the world. Hauser is the third Western gallery to represent Zeng after Acquavella and Gagosian both took a swing at moving his market beyond the famed Mask Series.
The Hong Kong show focuses on the artist's process and his examination of the work of Paul Cezanne. "There is no sign of his two signature series," Tsui writes, "the portraits, which are the focus of the exhibition in Hauser & Wirth's London gallery, and the latest progression of his abstract landscapes, on show in Zurich."
"By making clear that the Hong Kong exhibition is more about artistic method than the launching of a major series, Zeng has the luxury of talking about art history, techniques and what he calls his artistic logic. In London, he faced some harsh reviews of his new portraits, including a highly realistic painting of himself painting a giant, full portrait of Jesus, and three self-portraits in which he is looking down against an empty, dark background, which he says is his way of saying that there is beauty in focusing intently on what you do."
---
Twenty-One Days Left to Subscribe at $100
You're receiving this because you subscribe to Art Market Monitor's free newsletter. This daily compilation of news and analysis will become a paid subscription newsletter in November.
While we're offering the email for free, you can sign up at special rate of $100 per year. (The fee will become $125 on November 1st.) One hundred dollars is a 45% discount from the monthly price of $180-per-year. And if you keep your subscription current, that price will never go up.
AMMpro subscribers will receive AMMdaily along with their AMMpro subscription at no additional cost. If you are a gallery, art advisory, institution or other firm and want to provide your team members with a group or bulk subscription to AMM Daily, you may use one credit cart to pay for multiple email addresses here at a 50% discount for the subscriptions.