Kaws Momentum Continues
Phillips Day Sale surprises; Sotheby's gains momentum in Hong Kong; Sarah Lucas is a joker: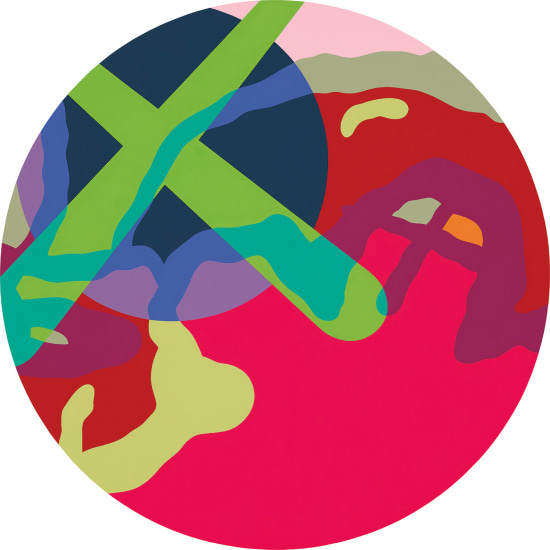 This untitled Kaws work sold during Phillips day sale today for more than twice its £150k high estimate to make £393k. There are strong prices for Günther Förg, Peter Halley, Harold Ancart, Wolfgang Tillmans and Jean-Paul Riopelle so far.
---
Sotheby's Fall Hong Kong Auction Cycle ↑ 15%
Sotheby's released the total for their Fall sales in Hong Kong this year. The 3199 lots sold made $466.1m. That's a 15% rise over 2017. Perhaps more important to measure the health of the Asian art market is the fact that the $404m made in the same sales cycle last year was up a dramatic 42% over 2016.
---
Deborah Solomon Passes Judgment on Sarah Lucas
WNYC's Deborah Solomon has a nice synopsis of Sarah Lucas's career that makes somewhat better listening than reading. Nonetheless, she gives a verdict on the New Museum show:
"In the age of # MeToo, Lucas offers a model of art that seems at once politically enlightened and free of didacticism. She goes for laughter rather than lectures. Sometimes, her work does feel overly literal, and I could have done without the cigarettes stuck in the orifices of a series of female figures. But on the whole, Lucas brilliantly exploits the history of sculpture to satirize the ways men have co-opted its forms for their own pleasure and satisfaction. And she makes the argument in terms that are impressively accessible and direct."
---
Museum Shows Driving an 'Insecure' Middle Market
James Tarmy tackles the issue of museum shows on an artist's market in the context of Frieze sales. The story is on Bloomberg. Tarmy also illustrates that the knee-jerk expectation that a museum show leads to higher prices and more sales isn't always true:
"Insecurity has come into the middle market, and that market's impulsive buyer has dropped out," [Wendy Olsoff, the co-founder of the New York gallery P.P.O.W.] says. Affiliating an artist's work with a museum show is therefore "something you can say that would give a maybe nervous collector a little security," she says. "Because you're asking real money for things—you can't forget that, no matter how wealthy someone is."

"It's not that easy," says Daniel Buchholz, […] "To be honest, people, especially museums, say, 'Give us some money [to help with an exhibition], and it's also good for you.' And yes, it's good because it's good for the artist," Buchholz continues. "But it's not a one-to-one thing, where someone has a show at the Guggenheim and we sell 10 times more art. It doesn't work like that." Still, he acknowledges, "in the long term, it helps."
---
Like this newsletter? Subscribe. Won't Be Free For Long.
You're receiving this because you subscribe to Art Market Monitor's free newsletter. This daily compilation of news and analysis will become a paid subscription newsletter in a few weeks time.
While we're offering the email for free, you can sign up at special rate of $100 per year. That's a 45% discount from the monthly price of $180-per-year. And if you keep your subscription current, that price will never go up.
AMMpro subscribers will receive AMMdaily along with their AMMpro subscription at no additional cost. If you are a gallery, art advisory, institution or other firm and want to provide your team members with a group or bulk subscription to AMM Daily, you may use one credit cart to pay for multiple email addresses here at a 50% discount for the subscriptions.