On the Cusp of Brexit, Modern British Artists Outperform in London
Colin Gleadell goes to Christie's series of three Modern British Art sales, which totaled nearly £15m, and discovers a market still healthy and strong.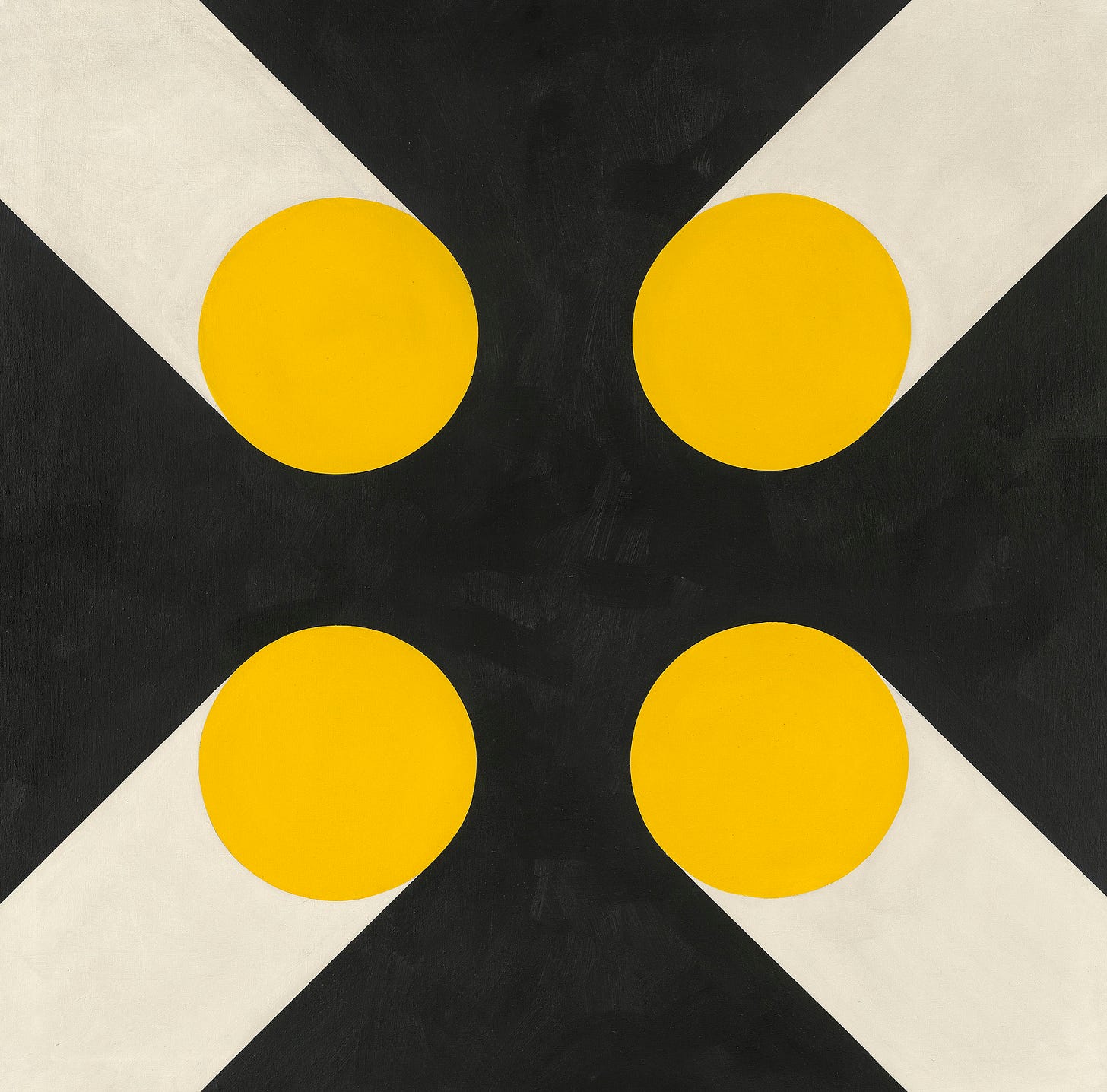 Jeremy Moon, Hawk £60k
Christie's held three sales of Modern British Art last week bringing in almost £15m with strong prices for L.S. Lowry, Ben Nicholson and John Piper. A Henry Moore that didn't look much like a Henry Moore was a big disappointment when it didn't sell despite (or, perhaps, because of) a £3m low estimate, Colin Gleadell tells us. But the news in these sales wasn't in the headline works. The day sale saw a 90% sell-through rate, numbers usually only seen in Evening sales managed with guarantees. Allen & Beryl Freer's collection also sold well-above the high estimate.
By Colin Gleadell
After a slip in sales volume and prices last year the Modern British art market appeared to pick up steam this January with three sales at Christie's. Voluntary consignments had been difficult to tie down because the sale closed only three days after an election which had caused British art dealers some concern. Daniel Katz, the leading sculpture dealer and collector of Modern British art (he paid a record £531,000 ($697,751) for 1911 painting of a horse and cab by Camden Town Group artist Robert Bevan at Sotheby's in November), said he would have closed down if the Labour party's Jeremy Corbyn had won because of the proposed tax increases. "We were all very, very nervous in the art trade about a Corbyn victory", he said. "Thousands of families had registered to leave the country. The English market would have collapsed."
The sales benefitted from a number of goods consigned by collectors' estates with attractive estimates, and, against a background of restored confidence in the property market, realized £14.9 million – safely within the £11/17 million pre-sale estimate. (Prices realized include the buyer's premium, estimates do not).
Moore Slips, Lowry Doubles Estimates
There was something confrontational about the first evening sale, timed head-to-head against the opening of the London Art Fair, where a core of Modern British art dealers was exhibiting. In spite of the distraction, the high-end selection of just 25 lots bettered the Sotheby's £6.8 million equivalent in November with a £7.8 million ($10.1 million) total.
Without buyer's premium, that barely scraped the low estimate of £7.1 million. This was largely down to the top lot, an early, 1936 surrealist Henry Moore sculpture, 'Square Form', that was not immediately recognizable as a Moore (which most are) and failed to sell with a £3/5 million estimate. Worse news for Christie's was that they had guaranteed it. Interestingly, all the other five unsold lots (including two Tony Craggs—whose work can appear in either a contemporary or Mod Brit sale as the department seeks to expand its boundaries) – were imposing three-dimensional works, perhaps indicating that buyers were not feeling expansive about top-heavy art – either price-wise or size-wise.
These failures were, however, partially offset by most of the top selling lots which exceeded estimates. That quirky, but most consistent of performers, L.S. Lowry, whose townscape, The Mill, Pendlebury, 1943, was from a New York collection and had not been seen in public since the 1940s, attracted multiple phone bids and doubled estimates to fetch £2.65 million ($3.4 million) making it one of the ten most expensive Lowry's sold at auction.
Although the Moore didn't sell, other works from the 1930s when British modernism was flourishing, did. A rare white relief from 1934 by Ben Nicholson—inspired by his absorption of the rigorous abstractions of Mondrian and Malevich—also soared over estimates to fetch £995,250 ($1.3 million)—a record for a Nicholson white relief—while a 1934 abstract by John Piper, last sold in 1991 for £27,500 to the late Dr Jeffrey Sherwin, now sold from his estate at a top estimate £371,250 ($482,254). The buyer was leading London dealer, Richard Green. Piper is probably best known to the public as a conveyor of romantic landscapes and historic architecture, but his output during his politically radical youth in the 30s is of more interest to academics. It can also be highly decorative, being linked to his works as a designer at the time and commands the highest prices in the market—this one being the second highest.
Also from the Sherwin estate was a First World War view of the trenches, The Wiring Party, 1918, by the Vorticist (Britain's answer to Cubism and Futurism,) William Roberts, which doubled estimates to sell for £395,250 ($513,430)—the second highest price for a work on paper by Roberts.
A mid-century modernist whose prices have soared, from a maximum 50,000 dollars at the turn of the century to 1 million dollars in the last decade, is sculptor William Turnbull. Also coming from an estate—that of West Coast collector Richard Weisman —was a 1958 Turnbull sculpture, Hero 11, which features famously in David Hockney's 1968 double portrait, American Collectors, a portrait of Weisman's parents with the Turnbull sculpture centre stage that is in the Art Institute of Chicago. Estimated at £350,000 plus, it attracted bids from London and New York art advisor, Hugo Nathan, before selling to a phone bidder for £671,259 ($872,000)—the second highest price for a Turnbull.
As mentioned earlier, these sales include artists who also feature in contemporary art sales and this had two paintings by the late Howard Hodgkin, a Waddington gallery then Gagosian artist. In the running for his posthumous market is London dealer James Holland-Hibbert who was quick out of the starting blocks to buy 'In the Middle of the Night', a hot red and black 1996 painting by Hodgkin from the estate of British collector Jeremy Lancaster—the fourth major estate that Christie's built its sale around. Bought above estimate for £250,000 ($324,750) it won't appear in Holland-Hibbert's forthcoming Hodgkin exhibition in April, though another Hodgkin he bought from an earlier Lancaster sale will.
Another, earlier Hodgkin from the Lancaster estate, Room with Chair, from 1968, also attracted competition before selling above estimate to Alan Hobart of the Pyms gallery for £395,250 ($513,430)
Day Sale Sees 90% Sell-Through
During the day sale, Hobart hovered in the door-way with the collector he has often been associated with, Lord Graham Kirkham, occasionally signaling bids to an employee. Kirkham, looking trim and healthy, had recently received the good news that the government export stop put on his Gainsborough landscape which had been sold for £8 million last July had been lifted. The news, however, did not lift Hobart's bidding, and having been outbid on works by Patrick Caulfield, Barbara Hepworth (an unusual early figurative work) and Elisabeth Frink, the team headed for the exit.
The session nevertheless witnessed a greater uptake than the evening before with 90% of the 102 lots selling. Certain trends persisted. Leon Kossoff had achieved a record for a work on paper back in November and here a gouache of Dalston Junction hit a top estimate £100,000 selling to art advisor Melanie Clore.
Holland-Hibbert was back in action driving the price for another artist whose estate he has recently taken on—the pop-turned-abstract artist Richard Smith. In 2016, Smith's auction record stood at £27,600 ($56,000). A year later his record had risen to £131,250. In January, Christie's had still not adjusted to the change in temperature and a 7-ft cumulous type abstract, Place 1, 1960, that had belonged to the influential collector, EJ Power, was chased over the £40,000 estimate by the Austin Desmond Gallery before selling to Holland-Hibbert for £125,000 ($164,000).
Dealer Offer Waterman sat attentively throughout, buying some Lucian Freud postcards, underbidding some others and keeping an eye on the market for William Turnbull, whose estate he represents. He underbid a 9-inch bronze Cycladic looking head by Turnbull and had a tilt at the 25-inch equally Cycladic influenced Metamorphic Venus, 1982, before it sold to a member of the luxury concierge team, Quintessentially, well above estimate for £118,750.
At the end of the sale was a small group of 60s works that had been bought by the late Lady Cholmondeley (another estate), sister-in-law of the Marquess who lived in the historic splendor of Houghton Hall. Lady C made her mark, though, turning one area of her family's apartments in Hyde Park into a homage to the latest 60s contemporary chic, for very little. A 1962 abstract, Hawk, by the short-lived Jeremy Moon, that had cost under £1,000 from the Rowan Gallery sold for a record £60,000, and a jazzy black-and-white op art painting, Counterpoint, 1964, by Bridget Riley's husband, Peter Sedgley, equally cheap to buy in 1964, saw Waterman and Austin Desmond in hot pursuit before selling to phone bidder for a double estimate record £62,500.
Another dealer active in the sale was Jacob Twyford of Waddington Custot, chatting from time to time with Tom Lighton, a former director of Waddington and now independent dealer who was administering the estate of collector Jeremy Lancaster. Twyford underbid two works from the Lancaster estate by the late Patrick Caulfield, a reluctant pop artist represented by Waddington, which sold above estimate and retail levels, says Twyford, for £162,500 and £93,750. He was more successful with two other Waddington artists, buying a small, early circus style sculpture, Three Man Up, 1961 by Peter Blake, on the high estimate for £31,250 and a 1984 bronze by Barry Flanagan (famous for his boxing hares) which he got on the low estimate for £25,000. The seller bought it in 2008 for £18,750.
A much better mark up was had by whoever bought Anglo Caribbean artist, Frank Bowling's small student work (showing the influence of Francis Bacon and de Kooning), Fishperson, 1962, at auction in 1994 for £55. Bowling was a nobody in 1994; now he's a somebody with a massive retrospective touring from Tate Britain to the US, and big galleries circling him for representation. It sold on the phone for a top estimate £35,000.
Freer Style: Allen & Beryl Freer's Collection Beats Estimates
The final session in this trilogy of sales was given to the collection of the unassuming educationalist, Allen Freer and his wife Beryl, which saw all but one of 80 lots sell for £2.26 million, in excess of the £0.9/1.4 million estimate. Of those, 59 sold at hammer prices above estimate—which is what happens when interesting works of good quality from an estate, many acquired direct from the artists, are offered with tempting estimates.
Mid-century neo-romantic drawings took up the running and saw Pyms galley swoop for a Welsh landscape by John Craxton above estimate for £33,750. A private collector with a studio in Glebe Place, Chelsea, saw off the competition for a 1925 painting of flowers on her Glebe Place studio roof terrace by Winifred Nicholson to buy it for a triple estimate £150,000.
Then came the first of ten Ivon Hitchens paintings, some very early, acquired directly from the artist or his widow. A Hitchens still life had sold in November at Sotheby's for a record £275,000 ($356,180), so the scene was well set. One 1935 still life sold for a double estimate £145,000. Austin Desmond vied for a couple but only secured one; and Richard Green was outbid on an unusual art deco influenced still life of 1931 that sold for a double estimate, equal record £275,000—the top lot of the collection. Second top lot was Red and Black. a 1953 abstract by St Ives artist, Terry Frost, whose market is coming back after a period of speculation backfired, and prices went into retreat. Estimated £40/60,000, it sold to the Waterhouse & Dodd Gallery bidding for a client for £200,000.
One Hitchens record was broken, however, for a work on paper when Old Master dealer Charles Beddington, often seen raiding lower value Modern British sales, bought an early, 1919, gouache landscape for a double estimate £40,000.
The other artist in abundant supply was John Nash, the more conservative younger brother of Paul Nash. Modernist and surrealist works by Nash the elder have fetched close to £1 million and his sibling's more traditional, but nonetheless eloquent landscapes have languished—until recently when an oil painting of a beach sold for a record £56,250. During the private view, Christie's hosted a reception for a new book on John Nash by the art critic, Andrew Lambirth, that repositions the artist and has been well received. Now it was the turn of his watercolors which one by one, trounced estimates. Beddington was responsible for one, paying a double estimate £7,750 for a simple ink wash drawing of woods, and underbid a 1919 watercolor of figures on Dunwich Beach—a location his brother painted many times—which sold for a double estimate £52,500. Freer bought it at Sotheby's in 1984 for £1,500. It would have been a record for a John Nash work on paper, had not a lady in a fur coat outbid Beddington earlier on for an immaculately ordered view of olive groves, Tuscan landscape, also of 1919, for which she paid £56,250.
Factoring in the £28.2 million of Modern British art sold in November by Christie's, Bonhams and Sotheby's, the combined £43 million winter series denotes a market in good health, despite Brexit and election nerves.