Sales, Sales, Sales
Barnebys Buys Value My Stuff; FIAC Gallery Sales; Jasper Johns Set of Prints Makes $1.2m; Phillips Has Best Multiple Sale
Frieze Sales Analysis Preview
We're going through our numbers on the Frieze sales. The full report will be available to AMMpro subscribers on Monday. In the meantime, the overall sales at Sotheby's, Christie's and Phillips were down about 12% overall from 2017 to 2018 despite Christie's need to make up for their absence in London this past June.
All three houses totaled £262,777,625 with an average lot value of £366,495. That average lot value is down about 12.7% from 2017 too. Average price and total volume don't usually move in lockstep. So that's interesting even if it doesn't lead to an obvious conclusion.
This year's sales had a higher sell through rate for all three houses combined at a very strong 86% for Contemporary art. The hammer ratio (the value of the aggregate hammer price over the aggregate low estimate) was also up in 2018 to .94.
---
FIAC 2018 Sales Report
The sales from FIAC aren't flowing as quickly as they do from Frieze. Nonetheless, we're gathering them here for you to see. This one isn't only for AMMpro subscribers.
---
Jasper Johns Cicada = $1.215m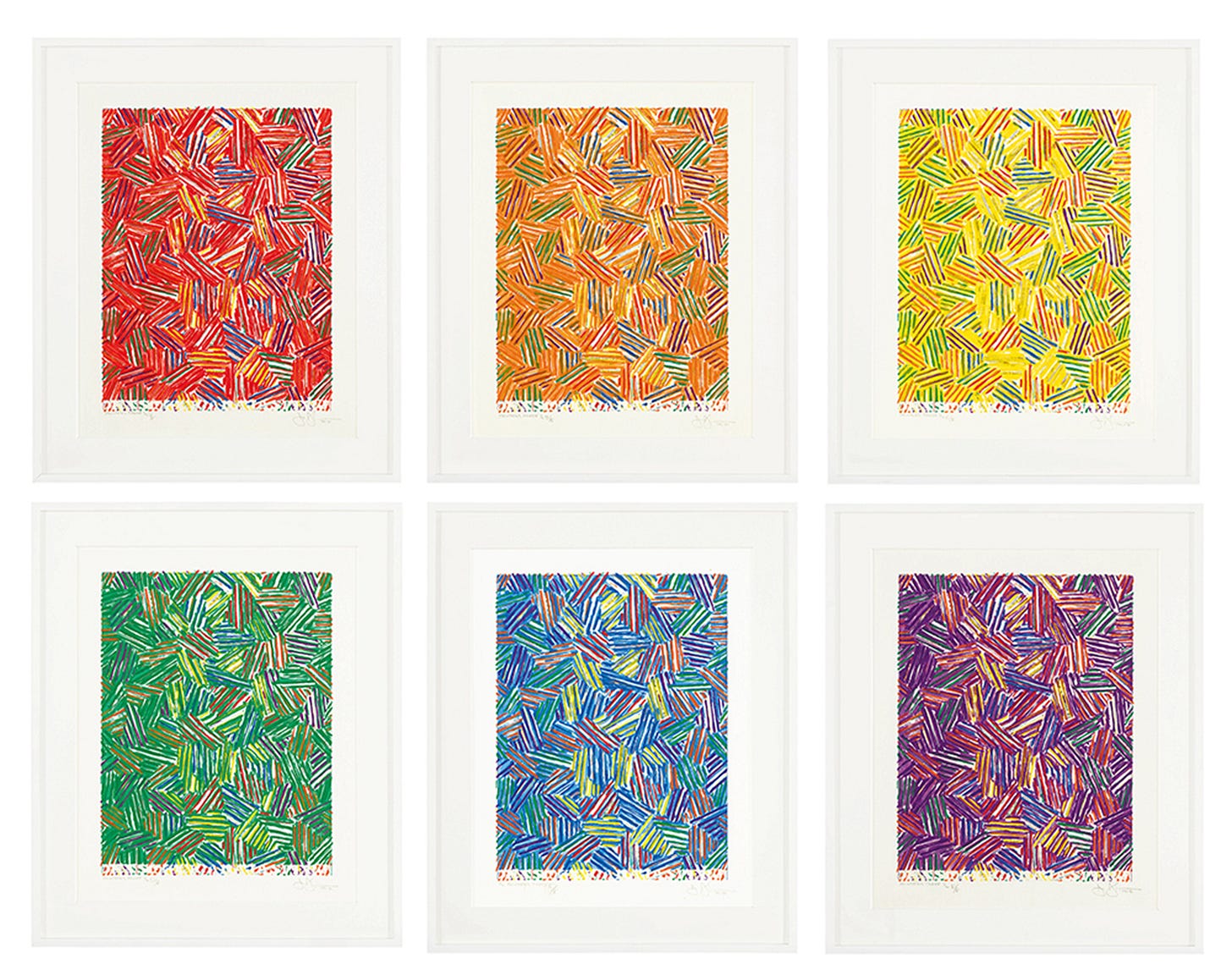 David Teiger's complete set of Jasper Johns CICADA (ULAE 215) was estimated at $300-500k at Sotheby's this week but sold for $1.2m no doubt benefitting from the fact that an example has not come up for sale in the past two decades.
---
Phillips Prints and Multiples = $6.35m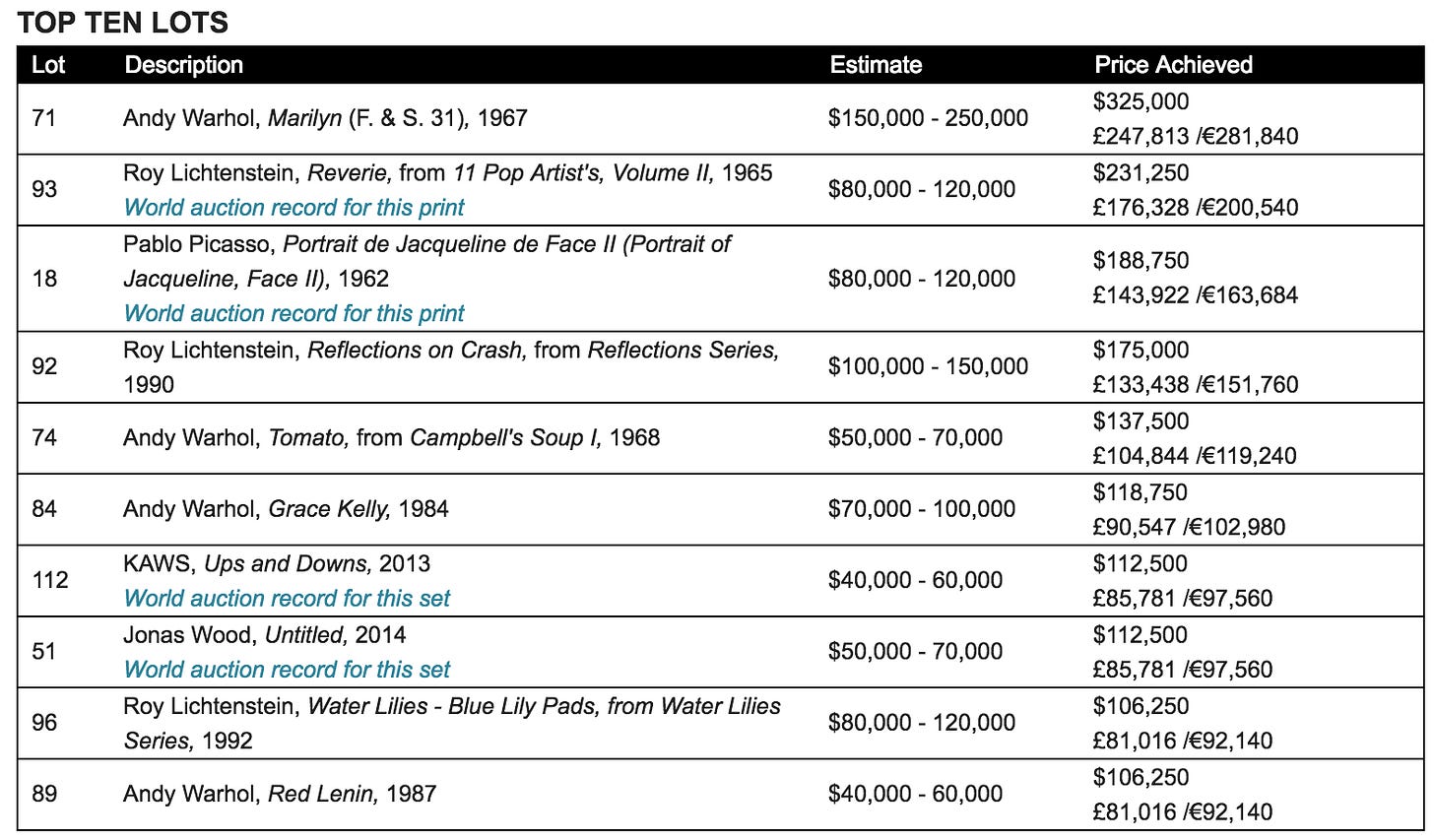 Andy Warhol's art has receded from the market (we'll have more on this in next week's analysis of the Frieze sales) but not from the print and multiple market. Phillips sale this week made $6.35m with 386 of 404 lots sold or 91%. Among the top lots were four Warhol prints, including a Marilyn that made $325k for the top price. That was $50k more than a similar example offered at Sotheby's this week. Roy Lichtenstein, Jonas Wood and KAWS rounded out most of the top ten.
The marks Phillips 10th anniversary in the category and saw Phillips set a high-water market for online sales in the prints and multiples market which has moved toward digital sales more than other categories.
"2018 marks the most successful year for the category yet," Cary Leibowitz and Kelly Troester, Worldwide Co-Heads of Editions, said. "With two record-breaking sales in the spring, our annual total for the year is $25 million. The market for high-quality prints and multiples is stronger than ever, with over 25 new records set in the October Evening Sale and with clients from 6 continents participating."
---
Barnebys Buys Value My Stuff
Barnebys, the Swedish company that styles itself an auction search engine, has acquired Value My Stuff. No deal financials were announced:
"ValueMyStuff is the world's number one art and antiques appraisal website. The website now has over 500,000 users and provides customers with online valuations of their art, memorabilia, wine, watches and any other assets in over 48 collecting categories. Founded in 2010 by Patrick van der Vorst, ex-director of Sotheby's Europe, the website is powered by a team of 62 experts who formerly worked for Sotheby's, Christie's and Phillips, thus guaranteeing the highest standard of art valuations."
---
12 Days Left to Subscribe at $100
You're receiving this because you subscribe to Art Market Monitor's free newsletter. This daily compilation of news and analysis will become a paid subscription newsletter in November.
While we're offering the email for free, you can sign up at special rate of $100 per year. (The fee will become $125 on November 1st.) One hundred dollars is a 45% discount from the monthly price of $180-per-year. And if you keep your subscription current, that price will never go up.
AMMpro subscribers will receive AMMdaily along with their AMMpro subscription at no additional cost. If you are a gallery, art advisory, institution or other firm and want to provide your team of 5 or more members with a group subscription to AMMdaily, you may use one credit cart to pay for 5 or more email addresses here at a 50% discount for the subscriptions.