Top Contemporary Artists
Fashion's Debt to Art; Napa's New Chinese-Accented Sculpture Park; and David Mugrabi
Who Is On Top in Contemporary Art?
Let's close out this week of data from Artprice's report on artists born after 1945 and their auction markets worldwide. The report goes deep into the top 500 artists, how much auction volume they had and the number of lots. Artprice focuses on the top value but we prefer to look at average prices. So we calculated that for you and sorted the list of the top 50 artists accordingly.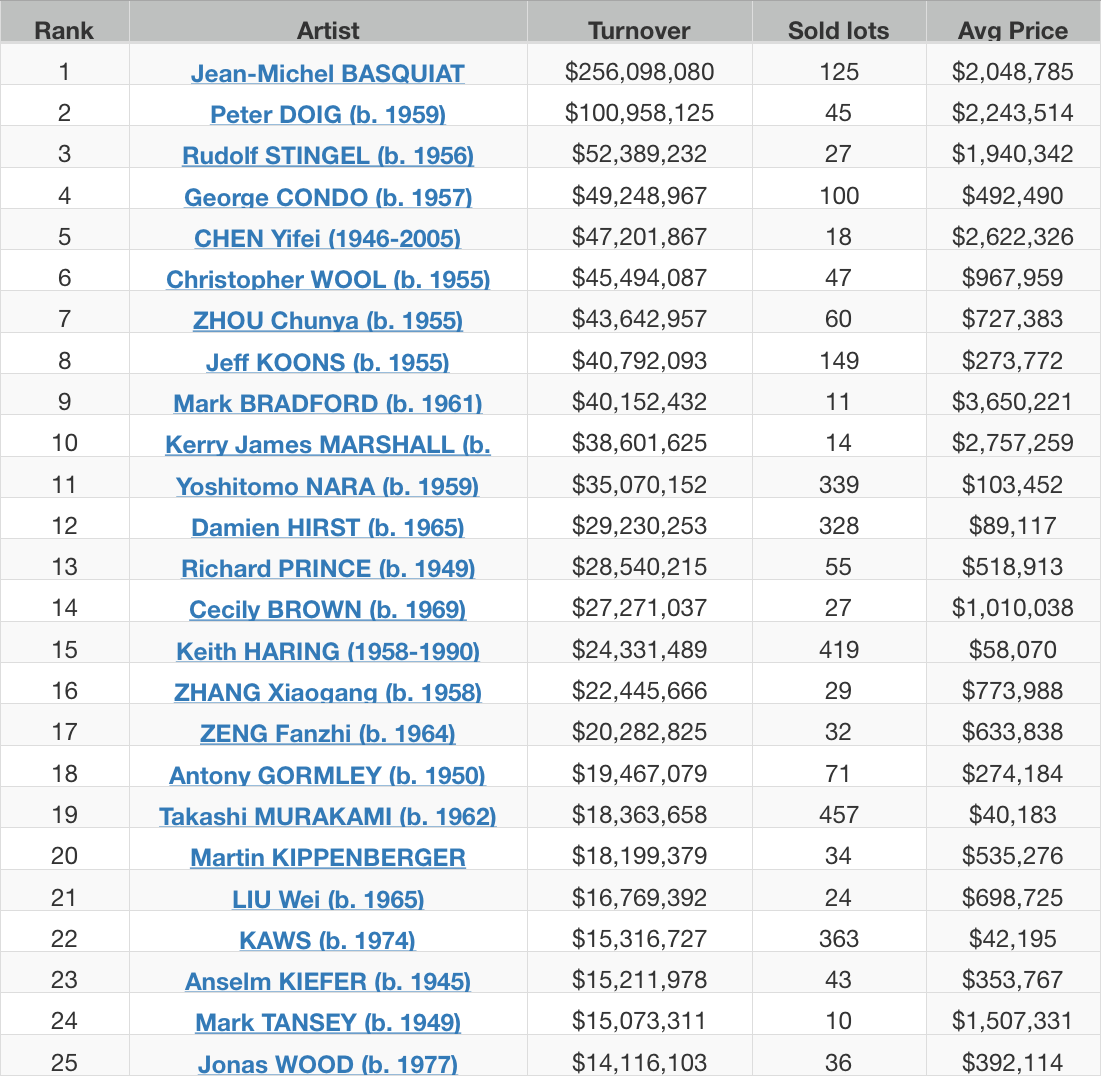 Above you have the top 25 artists born after 1945 by 2017-18 auction volume. Notice Jonas Wood peeking out of the bottom spot there. Mark Tansey is a little bit of a surprise just above him. Tansey sells very few works at auction but they go for big numbers, as you can see. Kaws is climbing on this list. Zhang Xiaogang is there too even if we don't talk about him much. Cecily Brown is just below Richard Prince and Damien Hirst. The guys in the top spots won't surprise many but Mark Bradford and Kerry James Marshall are worth noting.
Both artists have strong volume. But it just so happens they top the chart when we sort by average price. From there down we start to see some surprises like Robert Gober, Cady Noland and Felix Gonazalez-Torres. Each of those artists supports very strong prices. Barkley Hendricks, Hurvin Anderson, Njideka Akunyili Crosby, Adrian Ghenie and Mark Grotjahn.
If you follow the auctions and the Contemporary market, none of this is really a surprise. These are the names that come up again and again.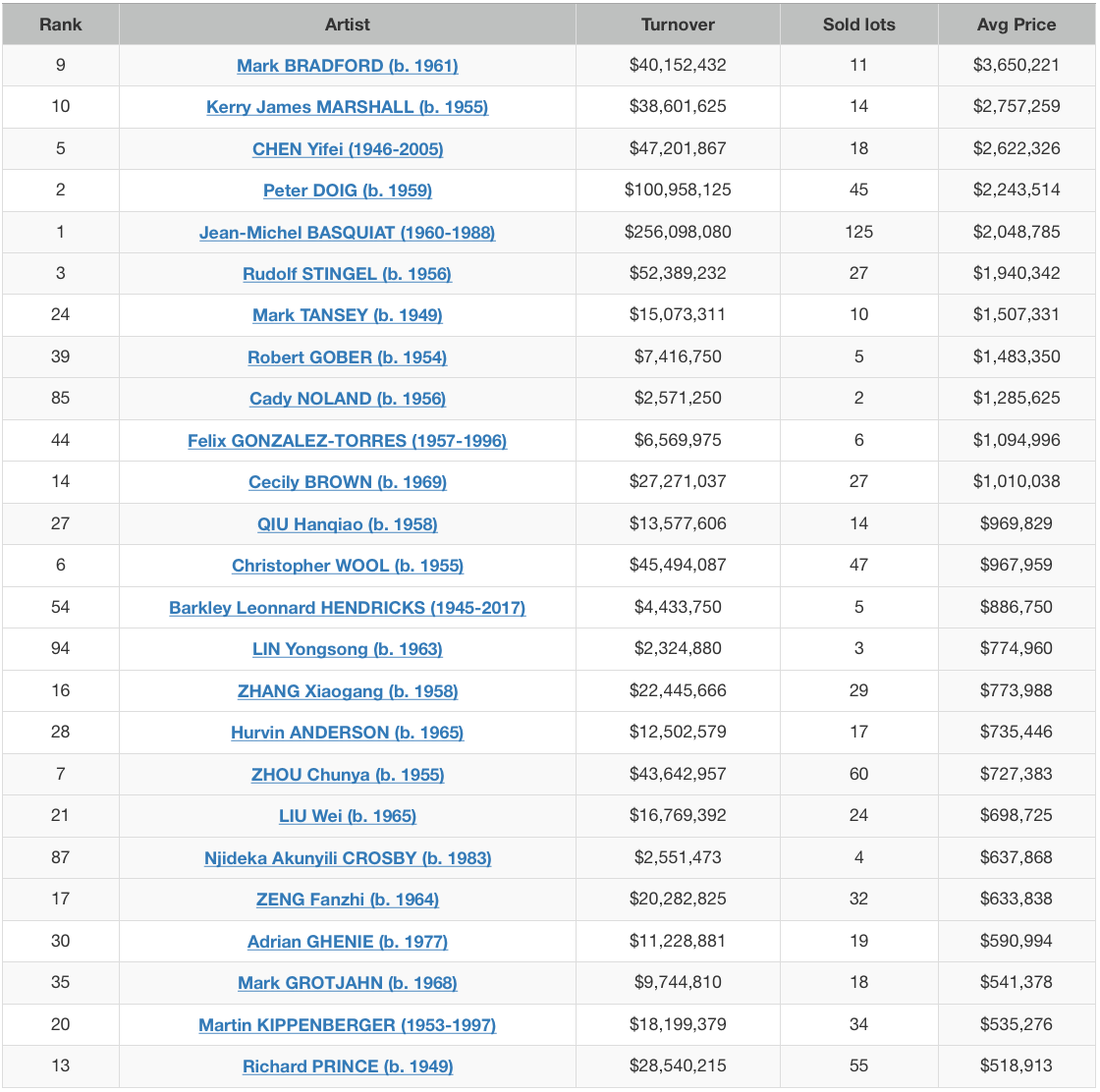 ---
Fashion's Debt to Art Is Increasingly Literal
The Wall Street Journal has a good breakdown of the not-new trend of fashion lines depending upon art for novelty and appeal. We're familiar with the fashion world's adoption of art over the last decade to signal luxury. But there's a concomitant movement to license artist's images to sell goods:
"Brands are looking to distinguish themselves for a period of a season or more, and looking to get that 'pop' of alignment with another cool brand," said Douglas Hand, a lawyer in New York City who specializes in working with fashion and lifestyle brands. "And Warhol is still cool, Basquiat is still cool, Lichtenstein is still cool." Traditionally, Mr. Hand explained, fashion licensing deals positioned the brand as the licensee—Tom Ford, for instance, lending its trademarked brand name to a line of sunglasses or a fragrance collection. Increasingly now, we're seeing the reverse form of licensing: where the brand is the one paying royalties to a foundation or company for the right to use its imagery.
---
Napa Valley's Sculpture Park Has Chinese Contemporary Flavor
Napa Valley winery, Donum, has been turned into a 200-acre sculpture park featuring works by Ai Weiwei, Yue Minjun, Marc Quinn, Subodh Gupta, Zhan Wang, Liu Xiaodong, Yayoi Kusama, Jaume Plensa and others. Owners Allan and Mei Warburg bought the winery in 2011 but opened the sculpture park in September of this year, according to the South China Morning Post.
"The Warburgs are well known as international patrons of the arts, and Allan – an Asia-based fashion tycoon who co-founded Bestseller Fashion Group Asia – is often credited with being one of the first Westerners to appreciate the flowering of creativity in China that was taking place in the 1990s."
---
Let's Not Call the Mugrabi Family Warhol Collectors
David Mugrabi's divorce is turning into steady fodder for Page Six. He was in court earlier this month to address questions about his physically fighting over a Haring sculpture and then won a big victory yesterday when the judge determined that so much of what David and Libbie Mugrabi owned was actually held by LLCs controlled by David's father and therefore could be sold without Libbie's consent. The drama will continue next week when they're all back in court. But one thing is certain, we will see this description of the Mugrabi family over and over in the NY Post.
"David's family are the world's foremost Warhol collectors, with an art portfolio estimated to be $5 billion."
It is impossible for anyone outside of the family to know the scale of the Mugrabi holdings. Recent market activity suggests the family has left the Warhol market to figure itself out. They have not defended Warhol sales over the last several years. That suggests they don't hold much or the works they hold aren't worth defending. At the same time, they've been very active in the market of other artists.
---
Nineteen Days Left to Subscribe at $100
You're receiving this because you subscribe to Art Market Monitor's free newsletter. This daily compilation of news and analysis will become a paid subscription newsletter in November.
While we're offering the email for free, you can sign up at special rate of $100 per year. (The fee will become $125 on November 1st.) One hundred dollars is a 45% discount from the monthly price of $180-per-year. And if you keep your subscription current, that price will never go up.
AMMpro subscribers will receive AMMdaily along with their AMMpro subscription at no additional cost. If you are a gallery, art advisory, institution or other firm and want to provide your team of 5 or more members with a group subscription to AMMdaily, you may use one credit cart to pay for 5 or more email addresses here at a 50% discount for the subscriptions.