Who Made the AI Work Christie's Just Sold for $432k?
Christie's just sold a work made by an algorithm for $432,000. Who deserves credit? Jason Bailey explores the topic.
Jason Bailey is a collector of Artificial Intellgence art who explored the question of Portrait of Edmond Belamy's authorship for AMMdaily. This is his article.
Someone paid $432,000 at Christie's today for the Portrait of Edmond Belamy, a work of art made by an algorithm that was offered in Christie's Prints and Multiples sale with an estimate of $7-10,000.
Even before the wild price was achieved, there was some controversy surrounding the work. The creation of the image was aided by the use of AI that analyzed 15,000 portraits and then made 11 'original' versions of its own, raising questions of authorship. On top of that, the group behind the production of the portraits has come under criticism from other artists who use artificial intelligence for the way they came to produce the work.
Money changes most things. Such a large amount of money going toward a work of art would normally increase the value of anything else created by the artist. Here, the artist is Obvious, a Paris-based group of three friends with no formal art training. So there is a philosophical question of authorship. There's also the question of where Obvious got the algorithm that created their work and the data that allowed it to generate these images.
Obvious initially claimed in an interview with CNN that "creativity is not only for humans," implying that the algorithm behind the work deserves credit for making the art. Most experts would call this an exaggeration, instead preferring to say that AI is currently just barely augmenting human creativity. When pushed Hugo Caselles-Dupré, the technical lead at Obvious, agrees with this point. He admits they had used "clumsy language."
The Belamy portrait was created using a GAN (generative adversarial network) algorithm invented by computer scientist Ian Goodfellow in 2014. Caselles-Dupré says that Obvious trained the GAN algorithm to create its own original artwork using 15,000 painted portraits. He offers this video (at the top of this email) of the GAN improving over time. Caselles-Dupré feels it is evidence that Obvious are training their own GANs.
Caselles-Dupré acknowledged that Obvious had made no real technical innovation because dozens of artists/programmers have been training GANs with images since they first became available. Hugo explained that this was their first project and it relied heavily on code and algorithms by others.
Many artists in the AI community question if Obvious trained the GAN themselves or if they just used a pre-trained GAN created by Robbie Barrat, a teenage AI artist from West Virginia.
Barrat trained GANs on thousands of nudes, landscapes, and portraits from Wikiart and made his pre-trained models available to the public in October of 2017. Barrat made the work open source when he posted it to his open GitHub account. Caselles-Dupré found it there in late 2017. He engaged Barrat in an exchange of posts where Caselles-Dupré repeatedly asked Barrat to adapt the GAN to Caselles-Dupré's needs.
You can read the full exchange, but Caselles-Dupré was ultimately able to get access to Barrat's code and admits to using Barrat's scraper to create the Belamy series.
That raises the question, does Robbie Barrat deserve credit for the work Obvious created and sold for $432,000?
"I think this is a good question," Caselles-Dupré concedes. "We ask ourselves this question a lot, too. And we're like, 'Okay, what can we do with this?'"
The solution Caselles-Dupré and his comrades came up with was to put the image in a gold frame and print the formula on the image as a type of artist's signature. "I think that has a lot of responsibility in the exposure of our project, too, Caselles-Dupré says. "So we owe him a lot, and that's what we said to him."
Several AI artists noted that Robbie exhibited his portrait images as physical artworks at the NIPS 2017 art gallery (Dec., 2017).
"The question of who deserves the credit here is not so easy to answer," says Mario Klingemann, one of the most respected AI artists. "This work was made in the context of art and not in science. There is no obligation to cite prior work or list the tools and frameworks that you use to create your art.
Ian Goodfellow's GAN, to an AI artist like Klingemann, is a production tool like a palette knife or Photoshop. But Barrat's contribution is different. He curated the data set, trained the model, and put it on GitHub.
Obvious did some of their own original work too. They forked the formula from the training set it; had it produce a number of images based on random feature vectors; and, crucially, made a final selection.
When Klingemann weighs the various contributions, he comes down on Barrat's side. "You could say that Robbie did two thirds of the work involved in this process."
"It appears Obvious decided to try to repackage and sell these images from Robbie's models as artworks," adds another highly respected AI artist, Tom White, who has been working in the field since the mid-1990s. "Anyone can verify this by downloading and running Robbie's original code and generating similar images."
White did just that. He ran Barrat's model himself and was able to come up with images that look almost exactly like the Portrait of Edmond Belamy. It is White's opinion that the Portrait of Edmond Belamy is a work of "appropriation."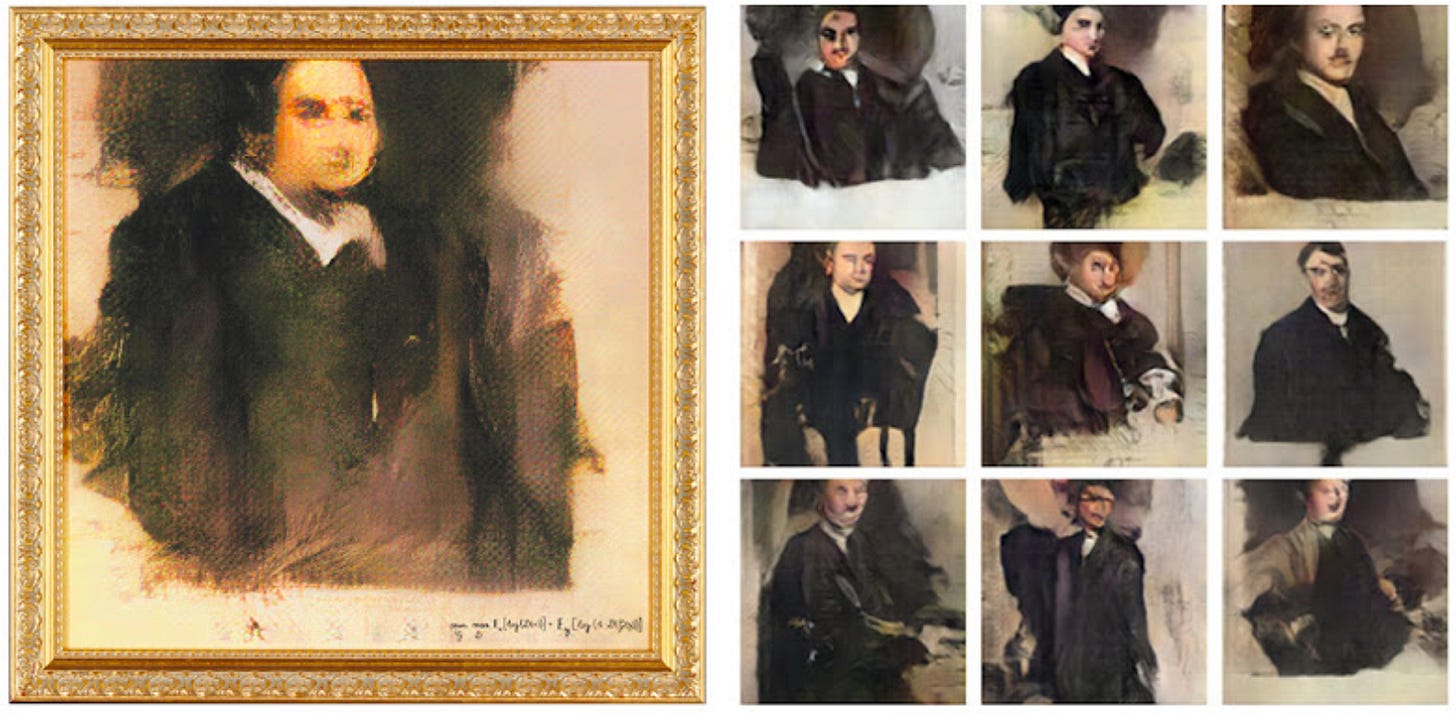 Portrait of Edmond Belamy, left; Tom White's outputs from Robbie Barrat's 2017 art-DCGAN project, right
I recently spoke with Caselles-Dupré who assured me Obvious trained their own GAN to produce the Belamy works. But he admits their motivation was to generate some much needed cash to keep Obvious going.
"We needed to finance ourselves," Caselles-Dupré said of the decision to auction the work that has now proved to be a shrewd move, "to pay our rent and to pay for food. So we were like, 'Okay, if we make paintings, if we make artworks, we're going to sell them.'"
---
You Can Follow This Debate in Real Time on Twitter
Last night, Robbie Barrat took to Twitter to express some of his frustrations about the sale:
Obvious responded with the video atop this article:
---
Six Days Left to Subscribe at $100
You're receiving this because you subscribe to Art Market Monitor's free newsletter. This daily compilation of news and analysis will become a paid subscription newsletter in November.
While we're offering the email for free, you can sign up at special rate of $100 per year. (The fee will become $125 on November 1st.) One hundred dollars is a 45% discount from the monthly price of $180-per-year. And if you keep your subscription current, that price will never go up.
AMMpro subscribers will receive AMMdaily along with their AMMpro subscription at no additional cost. (Please do not subscribe to AMMdaily hoping to get access to AMMpro posts.) If you are a gallery, art advisory or other institution and want to provide your team of 5 or more members with a group subscription to AMMdaily, you may use one credit cart to pay for 5 or more email addresses here at a 50% discount for the subscriptions.